Hotel Wedding Venues in Manhattan Beach
At Shade Hotel Manhattan Beach, we're proud to have created a world-class beach hotel that's equally suited for a quick getaway, a business trip, or a hotel wedding. Our luxury suites come with world-class amenities like standard Tempurpedic beds, and we also offer a variety of event spaces including our Manhattan Beach wedding venue. But in addition to all this, we're proud to offer premium dining right here on the premises at our zinc@shade Lounge.
How Cool Can You Get?
The zinc@shade Lounge is your place to convene with friends, unwind for the day, and treat yourself to a luxury experience. We turn the lights down low, mix a sultry Martini, pour a glass of Cab, and serve you delicious selections from our small plates menu. The lounge features a neomodular design that's both hip and comfortable at the same time, and with perhaps the longest bar in the south bay, we offer a large selection of fine international wines by the glass.
Whether in the lounge or on the Terrace, you can enjoy our menu of unusual small plates, both sweet and savory. zinc@shade is more than just another bar, offering an indulgence of sensory experience, and our professional staff are always available to take care of anything you need. Want the ultimate experience? Go all out and reserve the entire zinc@shade Bar & Lounge for an experience you and your guests will never forget. It also makes the perfect spot for a reception or after-party following your hotel wedding!
Reserve Our Hotel Wedding Venue Today
zinc@shade is a beautiful space, but it's only one of the event spaces at our hotel. Interested in learning more? Contact us today to discuss your next event, make your reservations, or start planning your Manhattan Beach wedding. We can't wait to hear from you!
How big?
23' x 58'
1334 square feet
How many?
zinc@shade accommodates up to 150 people for cocktails and can open up to the Courtyard and Terrace to accommodate a maximum of 300 for cocktails or 160 for a sit down dinner.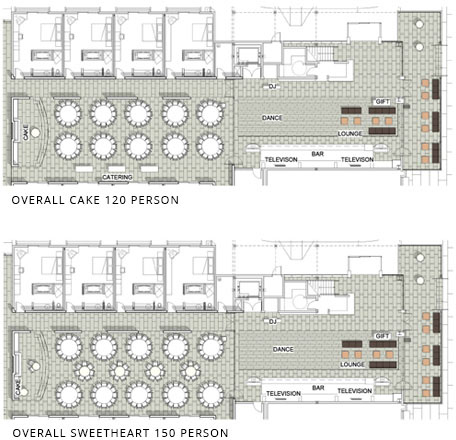 Contact our events team at (310) 698-5560 or events@shadehotel.com